GPS-collared elks help find damaged seedling stands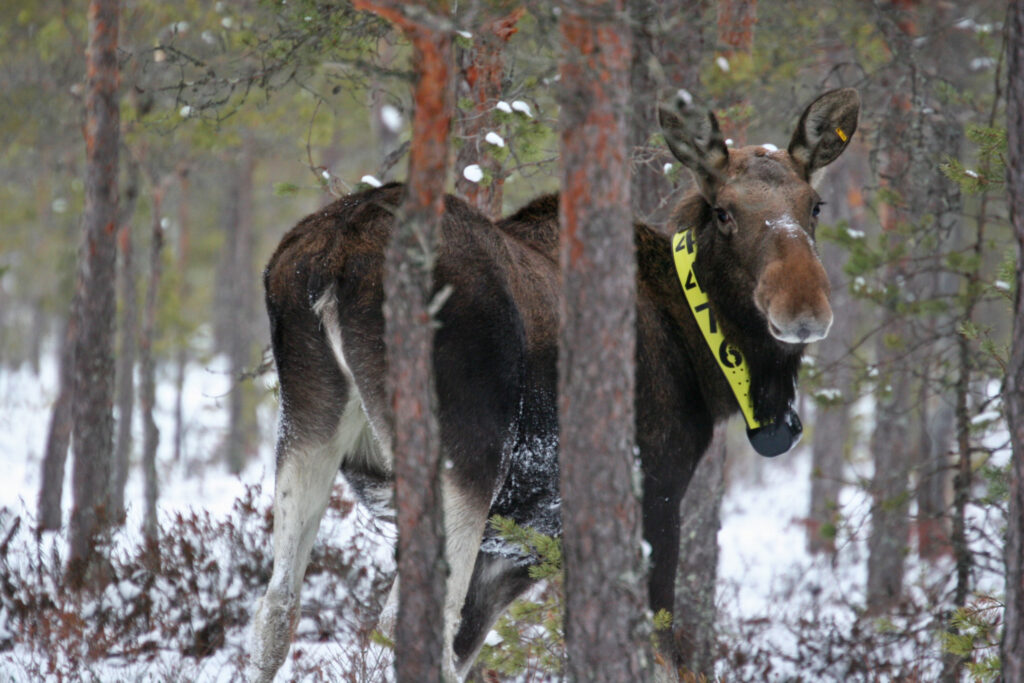 The elk (Alces alces) is the worst threat to seedlings in Finnish forests. Combining the data on damage location with data collected with laser scanning provides new information on the extent of damage and helps prevent it.
Approximately one fifth of Finnish coniferous and broadleaf seedling stands are estimated to suffer from elks. In particular, the elk likes pine seedlings. At worst, there are just some bare sticks left after a visit by elks in a recently planted forest.
Dr. Markus Melin, researcher at the University of Eastern Finland, wrote his doctoral thesis on a new approach to studying the movements and behaviour of elks that he developed together with colleagues. The research material combines laser scanning data with location data from GPS collars placed on elks.
By combining the data, Melin could see where and in what kind of forest elks were moving at any given time. The laser scanning data allowed Melin to calculate variables to describe the quantity and density of the vegetation. Thanks to these variables it was possible to identify damaged seedling stands, among other things.
"This makes it possible to identify risk areas and assess actual damage. Once the damaged areas have been identified from the laser scanning images, it is easier to go and investigate them in more detail in the terrain. "
The forest damage study for the doctoral thesis was carried out in the Kuusamo Jointly Owned Forests. The laser scanning data, produced by the National Land Survey of Finland and the Finnish Forest Centre, gives accurate three-dimensional information on the structure of forest and terrain. The data is collected by aerial surveys and is usually used for forest inventories and terrain mapping.
The Finnish Research Institute for Game and Fisheries has placed GPS collars on over one hundred elks in the Finnish forests in recent years. The collars transmit location data, allowing the routes of elks to be traced on a map.
Heat-stressed elks forage at night
Melin studied the combined data to determine the kind of forests which elks prefer in different seasons. According to Melin, the elks' behaviour on hot summer days was rather surprising.
"The elks could rest all day in a dense forest, but at night they moved to seedling stands and young forests to eat," Melin describes the effects of heat stress on elks in the summer of 2010, which was exceptionally warm in Finland.
The idea explored in Melin's doctoral thesis, to combine laser scanning and GPS data, offers new opportunities for ecological research. "The laser scanning data collected by the National Land Survey is open and can be used free of charge by everybody. Information on animal habitats and the structure of forest will benefit ecological research, and consequently also forest management," says Melin.
Currently, Melin researches the habitats of grouse chicks. His study combines the laser data with statistics collected by the Finnish Wildlife Agency.
---
Laser scanning data of the National Land Survey
---